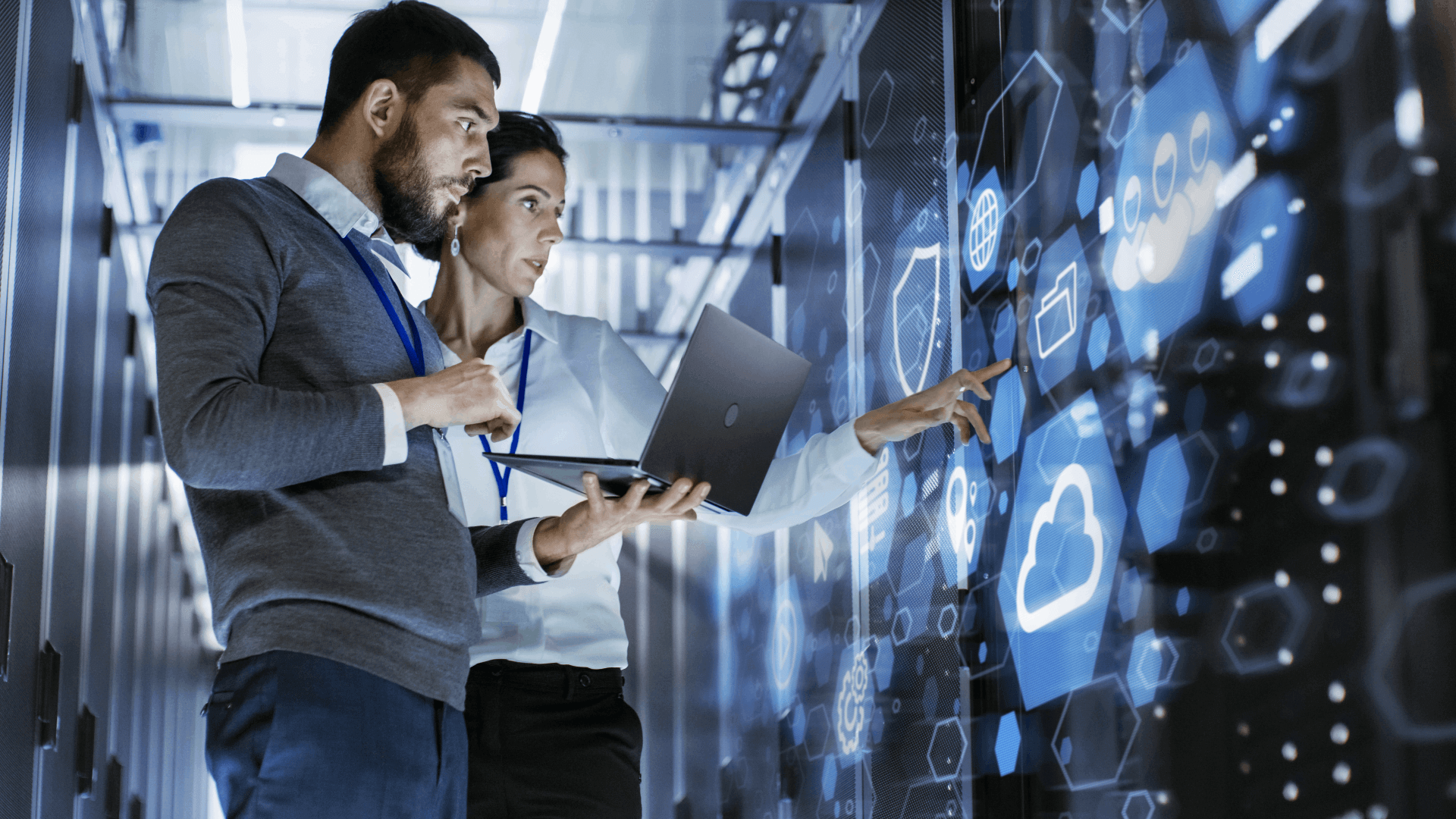 What Is IT Infrastructure Management and Why You Need It
Technology is probably the single most profitable resource that a modern business could possess. A proper tech network can increase employee productivity, uptime, and communication. In this regard, a company's IT infrastructure refers to the enterprise-grade physical and virtual components that help you use and manage technology.
It includes:
Hardware
Downloadable software
Cybersecurity protocols
Network systems
Legacy interfaces
Data retrieval methods
Wireless and wired access
Remote assets
The IT infrastructure also includes IT employees, policies and processes, upgrades, repairs, and testing, among other things.
Your business probably uses several IT elements, which is why you must have an effective management system in place. An organized and well-managed IT infrastructure allows for enhanced availability, improved performance, and quick troubleshooting.
In this blog, we will take a deep dive into the basics of IT infrastructure management, its benefits, as well as its challenges.
1. What Is IT Infrastructure Management?
As you may have already guessed, IT infrastructure is a combination of several different tech elements. Each one plays a specific role in keeping your IT environment running smoothly. When one component fails, it can impact the entire IT network. Hence, it is crucial to maintain and manage your IT infrastructure with utmost diligence.
This is where IT infrastructure management comes in. At its core, IT infrastructure management involves the administration of your entire IT environment, including its systems, platforms, and people. It helps organize and control multiple technical operations involving hardware, software, and physical or virtual networking.
The main goal of IT infrastructure management is to keep all your tech elements working appropriately. This, in turn, minimizes downtime caused by technical outages and sustains employee productivity.
2. Categories of IT Infrastructure Management
IT infrastructure management is generally divided into three broad categories:
Systems Management
Storage Management
Network Management
A) Systems Management
Systems management involves the control and upkeep of IT assets commonly found in data centers. Such activities include, but are not limited to:
Prevention and detection of possible intrusions
Log management
Cloud-based app integrations
Automation of workloads
Configuration management
Organizing security information and events
B) Storage Management
Since data storage is crucial to businesses, IT technicians are heavily invested in monitoring various data storage resources. A few examples are:
Virtualizations
Storage provisioning
Data compression
Data security
With automated storage provisioning and data compression, the processing time goes down, allowing the data centers to perform better. Likewise, proper virtualization strategies can help you quickly redistribute storage resources as required.
Storage management also includes data replication, security, and mirroring techniques, which can protect your business intelligence from being stolen or lost.
C) Network Management
As the name suggests, network management refers to the regulation of your security networks. IT infrastructure managers configure networks and allocate resources to applications or services as needed. They also maintain the quality and availability of resources.
Network management helps strengthen your network security protocol while safeguarding it against cyberattacks and unwelcome intrusions.
D) Other Types of IT Infrastructure Management
Here are a few popular types of IT infrastructure management processes most businesses tend to avail:
OS management
Container orchestration
API management
Risk management
3. IT Infrastructure Components
Before moving on to identifying different types of tech elements found in an IT infrastructure, let us first look at its two broad classifications:
A) Traditional Infrastructure
Most tech hardware and software, such as data centers, servers, PCs, enterprise-grade software platforms, and data storage components, are identified as traditional IT infrastructure. These equipment are usually owned and operated by businesses on-premises.
B) Cloud Infrastructure
Cloud IT infrastructure includes resources relevant to cloud computing. In other words, they refer to the tech tools required to develop a cloud network and host services or applications.
While cloud infrastructure shares multiple similarities with traditional infrastructure, it lets users access the tech components through the internet without requiring physical installations.
3.1 The Seven Major Components of IT Infrastructure
You can think of your IT infrastructure as a composition of these seven different units:
Hardware
Software
Operating systems
Data management and storage platforms
Networking and telecommunications
Internet-related infrastructure
IT Consultation
A) Hardware
IT infrastructure management services involve the maintenance of enterprise-grade computer hardware, including laptops, computers, servers, and mainframes.
B) Software
IT technicians also supervise your software applications, especially those that are most significant to your core services. For example, an IT infrastructure management expert may monitor software like SAP or Office 365 if you rely on them for your work.
C) Operating Systems
The operating systems installed on your computers are included within the scope of IT infrastructure management. A few examples of the most common operating systems are:
D) Data Management and Storage Platforms
From physical data centers to data storage software, an IT infrastructure management team can help you oversee and organize diverse data storage components effectively.
E) Networking and Telecommunications
Virtual network software, phones, routers, and wiring are significant constituents of your IT infrastructure. As they too need regular maintenance, they fall under the domain of IT infrastructure management.
F) Internet-Related Infrastructure
Facilities hosted on the internet, such as websites, web applications, software, software development tools, are considered a part of your overall IT infrastructure.
G) IT Consultation
An IT technician may be involved in using new tech infrastructure to update your legacy systems with more potent applications, suitable for the contemporary digitized age.
4. Benefits of IT Infrastructure Management
As a business owner, you are probably wondering why you should manage and maintain your IT infrastructure. Let's see how doing so can benefit your enterprise:
A) Minimal Security Disasters
With a strong IT infrastructure management strategy in place, you'll run a lower risk of cybersecurity incidents. It can greatly decrease instances of system failures, data losses, and cyberattacks.
Additionally, IT infrastructure management also reduces the damage inflicted by cybersecurity disasters. Network support services like endpoint detection and vulnerability scanning can help safeguard your internal network against perpetrators that manage to sneak their way in.
B )Easy Data Retrieval
Data losses can have a severe negative impact on your business. According to Hosting Tribunal, statistics from FEMA suggest that around 40-60% small businesses do not recover from a data loss.
An adequate tech infrastructure management system can help you develop efficient storage and backup plans for your business intelligence. Consequently, your workflow is less likely to be disrupted by sudden data-related crises.
C) Reduced Expenses
Effective infrastructure management keeps unexpected tech issues from cropping up your IT budget. This can help you save capital, even if you are paying a managed service provider to manage your IT infrastructure.
D) Lesser Downtime
IT infrastructure management keeps your hardware, software, and internal network running at an optimal pace, reducing technical outages and system downtimes. In addition, it also helps accelerate deployments and repairs.
E) Expert Help at Hand
Investing in a third-party IT infrastructure management company will provide you with access to a team of experts ready to address your tech needs. This IT support is often available 24/7.
F) Other Advantages of IT Infrastructure Management Services Include:
Increased automation resulting in reduced labor expenses, efficient capacity planning, centralization of intelligence, and live information reporting.
Streamlined daily operations for enhanced productivity.
Better performance and increased customer satisfaction levels.
Quick responses to unprecedented disruptions.
Proactive management strategies stemming from flexible procedures.
5. IT Infrastructure Management Challenges
Despite its several advantages, many companies face a few challenges when it comes to IT infrastructure management. They are:
A) Difficulties in Data Acquisition
Many firewalls, when protecting applications and web browsers, often result in packet losses in TCP/ICP networks. The resulting data losses will create difficulties in online collaboration.
IT experts can resolve this problem by using highly efficient computer systems with large data sets and a secure means of connecting with remote teams.
B) Hard-To-Manage Data Sets
IT infrastructure management companies may find it difficult to handle the overwhelming volume of data available in the digitized age. Computing these data sets without adding more people to the mix will require virtualization and automation, something that most businesses may struggle with.
To resolve this issue, IT managers can break down complex tasks into simpler bits and process them through individual computers connected via a network.
C) Data Storage Platform Shortcomings
Although cloud computing has its own set of perks, it does not offer the data storage architecture required to store diverse applications. This issue can only be resolved once cloud storage architecture becomes more flexible and can accommodate increased amounts of applications for a long time.
D) Inefficient Connectivity
Your IT infrastructure manager might be stumped if there is no secure and reliable network connection in place. If you want your data optimized, you'll have to invest in the latest software-based processes and network designs.
This problem has two solutions.
One, application services can be transferred to a different hardware if you can migrate the IP address.
Two, you can add intelligence to your wireless and wired network connections.
This can help the networks streamline traffic, curb costs, and enhance service.
Conclusion
While IT infrastructure management may have its own set of challenges, it is safe to say that its merits outshine the drawbacks. Partnering with an IT infrastructure management company is always a great idea. With their expert advice, you can build and maintain an IT network that can adapt to your changing business needs, boost your productivity, and keep your valuable systems and data safe from intruders. If you are still unsure how IT infrastructure management can help your business, reach out to our experts for more information.