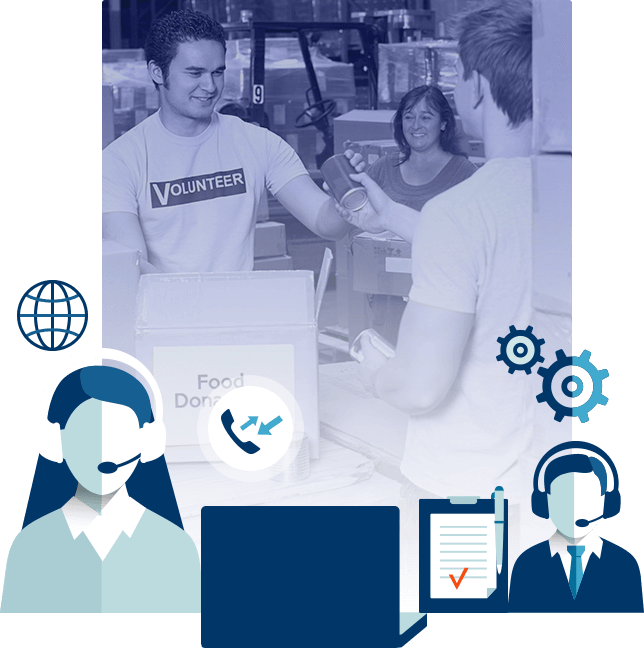 Helping NGOs to Keep up the Good Work
We know how hard nonprofits have to work to make this world a better place. We also know that non-profit organizations not only have to rely on people with a good heart, but also on cutting-edge technology to adhere to their social commitments. A robust IT support will allow your organization to keep real-time track of your financial reporting, awareness campaigns, donor follow-up and feedback, and regular office work.
With years of experience in handling non-profit custom IT solutions, InterHyve is the perfect technology partner your organization needs. We have worked with several different non-profits around the globe, and we understand your unique IT requirements completely. We can provide custom IT solutions as per your own unique set of technology needs. Most importantly, you can get all these services without breaking the bank. Think of it as our way of giving back to society.
Expert Help

Overcoming Unique IT Challenges

NGOs face some unique IT challenges that we can help overcome.
Data Security – From the list of donors to the sensitive legal information, keeping the data safe, whether online or offline, is the biggest challenge.
Proactive IT Management and Maintenance – While most NGOs may have computers and other IT setup, they often lack the resources to provide proactive management and maintenance.
Real-time Monitoring – They also lack the experience and skills required to monitor their various IT activities in real-time.
24/7 IT Support – Most NGOs don't have the resources to provide 24/7 support for their IT set-up.
Growth Partners

Our IT Knowledge = Your Growth

We have extensive experience in handling IT support requirements for various NGOs. So, we have a clear understanding of how non-profits work. Most NGOs have pressing budgetary constraints, fiduciary obligations, donor data security concerns, and unique IT support requirements. NGOs need to comply with different data security-related rules and regulations such as HIPAA, PCI, and SSAE16, among others.

As an experienced non-profit IT service provider, we are well aware of these concerns. So, when you connect with us, our engineers take a quick look at your requirements and hit the ground running for your IT project. Plus, we are always a phone call or an email away should you come across any IT-related problems. Thus, you can focus on the good work you are doing.
Our Services

Strategic IT Support for NGOs

We provide the IT support your organization needs so that you can focus on your projects, fundraising, and volunteer training. You don't have to worry about your data security or any other IT requirements. Here's what we offer.
You're Not Alone

Full Cycle Non-Profit IT Solutions

Whether you are an NGO whose social commitment has just begun or are expanding your operations in new regions, we will provide customized solutions for your unique needs at every stage of the non-profit cycle.

All NGOs need to adopt a diverse range of applications for a variety of IT platforms. Our team of skilled engineers will help you win the IT challenges at every stage, uncover new tech opportunities, upgrade legacy systems and tools, as well as document and analyze potential system issues. After thorough analysis and research, we will recommend the right solution while keeping your IT overhead costs low.
Features

We Do IT Differently for NGOs
Fixed, transparent, and affordable budget for all your IT needs.
24/7 IT support desk with responsive and skilled engineers.
Crystal-clear and easy-to-understand technology roadmaps and plans for people with no technology background.
Specialized strategies for protecting donor data against cyber threats.
Fully scalable and customizable solutions with the exact level of IT service you require.
InterHyve is a place where expertise meets the best IT practices.
First-hand help with budgeting, phasing, and implementation to set your priorities in order.
Hire Us

Let's Talk about
Your IT Needs

Contact InterHyve Systems for a fully customized offer.