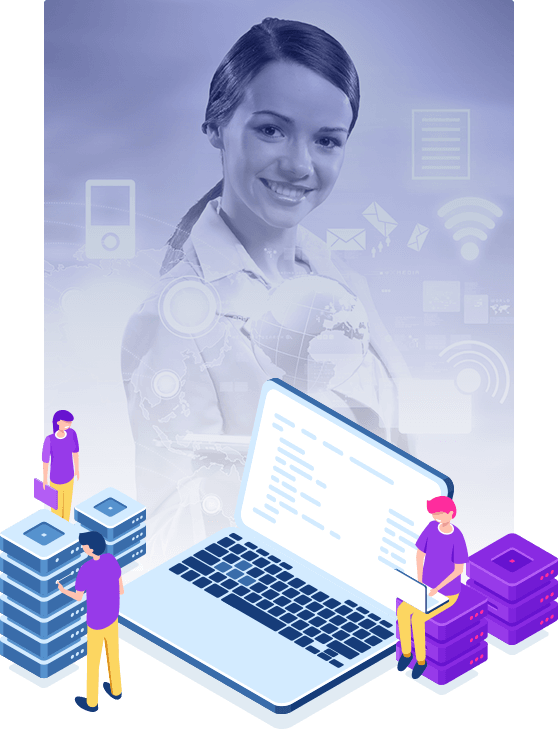 Absolute Computer Maintenance and Support Begins Here
Proactive IT support is the backbone of your IT infrastructure. As a leading Geneva-based IT support service provider, InterHyve knows that IT support services mean more than just maintaining software, hardware, and servers during technical failures. It involves using cutting-edge technology and well-planned IT strategy actively to keep the entire IT system running. This is why InterHyve has developed a highly functional and practical approach towards its IT support services.
Be it small-business IT support services or large scale projects, our skilled engineers are well equipped and experienced to handle any requirement. Our team has excellent knowledge and command over the latest technology required for proactive support and maintenance of your computers, servers, and software. As our IT support is scalable, it can grow with your ever-expanding business. With your IT support in our hands, your business can reach new milestones without having to worry about the IT infrastructure.
Why US

InterHyve IT Support Is What You Need
User-centric and punctual IT support services.
Personalized on-site and remote user support.
Effectively planned support services to get the best value for your money.
Fully customized plans that allow you to choose the services you want.
Enjoy a stress-free IT environment 24/7/365.
Our Team

Meet the People Who Make IT Happen

Providing a vast array of IT support services to clients located around the globe wouldn't be possible without a team of skilled, highly productive, and experienced professionals. They are a bunch of creative nerds dedicated to mastering new technologies. While providing support to our clients, they also support each other to grow as professionals and individuals. They do like to take an occasional break, especially when your IT applications are running smoothly.
FAQ

What Do You Need Help With?

What Are Your Help Desk Hours?

The usual helpdesk hours are from 08:00 to 19:.00. However, our expert technicians are available 24/7/365 via email, telephone, and online chatting.

Do You Offer a Service Guarantee?

Yes. However, the guarantee may vary (or may not be available) depending on the type of service offered. All newly installed hardware comes with a warranty from the manufacturer.

How Often Do You Visit the Site?

Today, most IT-related support services can be provided remotely. However, we will visit your site/office for scheduled onsite maintenance or planning meetings. We will also visit in case of an emergency. You can, of course, connect with us via phone, email or online chatting anytime.

Can InterHyve Systems manage my IT remotely?

Yes. InterHyve Systems has a service management platform which monitors every client network end-point. Many incidents can be resolved remotely. Our break-fix support engineers with years of tech support experience will manage and resolve all other incidents within agreed client Service Level Agreements.

Can You Help Us Create an IT Security Policy?

Yes. Our support service includes providing you with the technical know-how of creating a robust security policy. We will make sure your IT infrastructure has the latest and the most secure layers of cybersecurity. We will also provide guidelines to your employees for following the best practices.

What Qualifications Do Your Support Engineers and Technicians Have?

Our engineers, technicians, and cybersecurity experts have varied industry certifications from leading companies like Cisco, Microsoft, Intel, and IBM.

How long have you been in business?

InterHyve Systems has been a provider of IT managed services for almost 20 years working as a provider of end-user support engineers for a large variety of businesses. We are a privately owned, Swiss company that takes pride in providing excellent break-fix support for all our clients throughout the world. We are also proud to own a specialist cybersecurity division called SID (Security in Demand), a leader in forensic cyber threat detection and mitigation.

What support models do you offer?

InterHyve Systems offers complete lifecycle support, including second-line helpdesk, imaging, and staging, installation, on-site tech support, maintenance, and asset disposal. We can offer bespoke support models for every client to ensure you get the best break-fix support possible.
Hire Us

Let's Talk about
Your IT Needs

Contact InterHyve Systems for a fully customized offer.