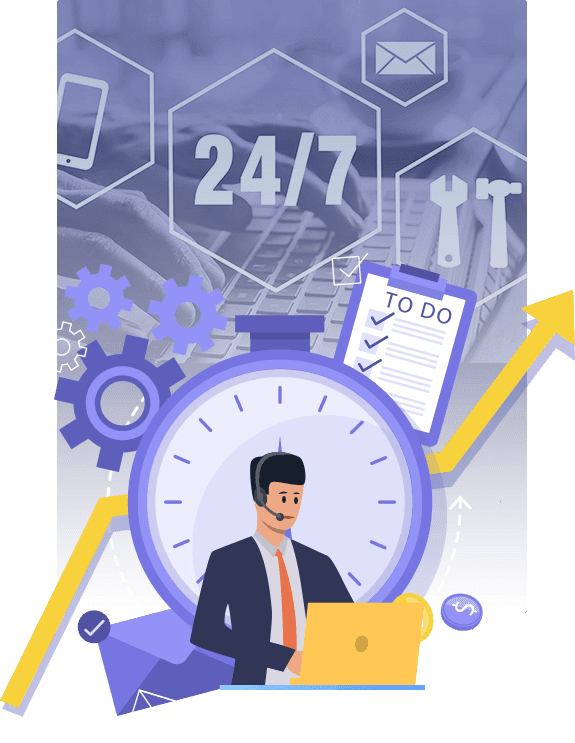 24x7x365 Support by Microsoft Certified Professionals
Microsoft Office 365 is the perfect combination of agility, flexibility, and robust security. It offers a wide range of enterprise applications and systems that can increase your productivity, expand your business goals, and redefine your customer service. The cloud-based enterprise solution can also give you a competitive edge in this increasingly hyperconnected marketplace.
But, to unlock the full potential of Office 365 features, you need an expert by your side.
This is where InterHyve comes in.
Our Microsoft Office 365 specialists can help your organization build a highly productive, flexible, and cost-effective Office 365 solution from scratch. Our certified experts are skilled, experienced, and well-equipped to provide you with 24X7X365 support for all your Office 365 needs. So, you can focus on growing your business without having to worry about your Microsoft Office 365 investment.
Let's reinvent your business with our Microsoft Office 365 expertise!
Office 365 Designed to

Meet Your Business Goals

Being one of the leading Office 365 managed service providers, we make sure to provide solutions designed to meet your business goals. This is how we do it.
Your Trusted

Office 365 Partner at Every Step

From Office 365 VoIP integration to Office 365 migration solutions, InterHyve will be your trusted ally at every step in setting up your optimal Office 365 ecosystem with ease. We will ensure that your on-site business applications quickly become an integral part of the Office enterprise software ecosystem without any hiccups.
End-to-end implementation of all Office 365 projects aligned to your business scope and budget to ensure maximum efficiency.
Smooth migration of your on-premises data and applications to the cloud or hybrid Office 365 environments.
All-out customizations to develop unique Office 365 solutions that are optimized to meet your industry standards and user preferences.
Training from experts to prepare your workforce to adopt with the Office 365 environment with ease and without costly downtimes.
Hold On!

Don't Forget Your
Office 365 eBook
Are You In?
Before you jump on the Office 365 wagon, take a look at this crash course. You can find useful tips and tricks to take full advantage of Office 365 for your business.
Features

That Make Your Business Grow

Office 365 is fast becoming an enterprise-level cloud solution by Microsoft. It simplifies sharing and collaboration to empower your business.
Work from Anywhere Anytime: Create, access, edit, and share Word, Excel, PowerPoint, and One Note files from anywhere anytime.
Stay Updated: Get monthly feature and security updates to ensure seamless collaboration without having to buy a new version.
Stay Protected: State-of-the-art malware protection and anti-spam filtering to protect corporate content and sensitive business data.
Real-Time Communication: Apart from business-class email with 50GB storage and shared calendar, get Skype for real-time calling, web conferencing, and messaging.
Secure Intranet Sharing: SharePoint ensures secure and agile intranets, team sites, and content management.
Teamwork at Its Best: With 1TB of OneDrive per cloud storage per user, your team members will always be in sync.
Hire Us

Let's Talk about
Your IT Needs

Contact InterHyve Systems for a fully customized offer.