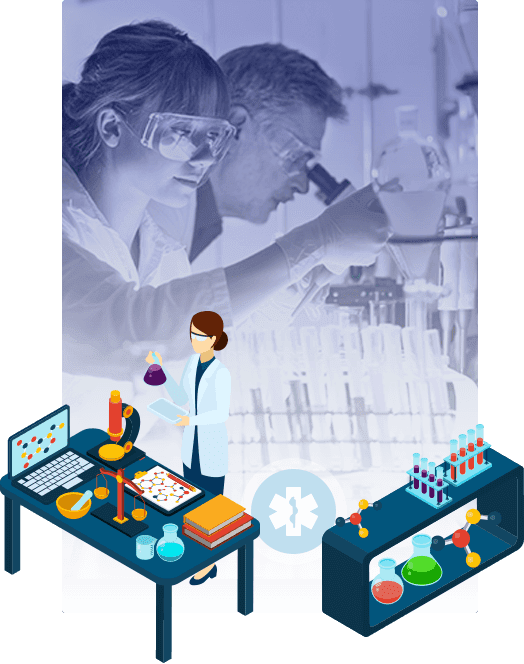 Say Hello to Advanced Pharma IT Solutions
The global pharmaceutical industry has changed over the years, especially after the rise of information technology. Today, several companies are using digital technology to manage large amounts of data as well as software applications used in the process of drug discovery. Considering the increasing costs of drug discovery and sharp competition, pharma companies need to have a remarkably robust, secure, and agile IT infrastructure.
Our professional IT experts, with years of experience in providing managed IT services for pharmaceutical companies, understand their unique need to manage patent expirations, mergers and acquisitions, multiple drug discovery processes, marketing challenges, and regulatory compliances. We have the expertise to provide you with the best in class IT solutions for your pharma business at affordable rates without compromising the security standards.
We will work with your in-house IT staff to identify the avenues where integrating new technology will help drive your revenue up and stay ahead of your competitors. Our experts will ensure a quick turnaround with minimal downtime to make the transition as seamless as possible.
How We Do It

Managing Your IT as Our Own

At InterHyve, we not only understand what your IT companies are but also treat your IT needs as our own. We will offer you an all-inclusive solution after studying your IT infrastructure carefully. However, you are free to pick up the services you want and customize them as you wish.
Attention to detail: We will check every aspect of your business goals, current IT technology set up, and budget to make sure you get the most out of our services.
Complete dedication: You will have our full commitment throughout the project, making sure everything goes as per the plan.
Personalized customer support: Our personalized support allows you to communicate your problems quickly and 24/7/365.
Why Us

Strong Pharma IT Prowess

In our 20 years of catering pharmaceutical IT services in Geneva, we have tackled more than a few challenging projects for clients across the globe. We have built a team of talented and experienced IT professionals who have worked on unique pharma IT projects.
Capability to maintain complex networks, servers, and computers.
Ability to provide secure transition while adhering to HIPPA and any other compliance.
Provide proactive data backup and disaster recovery services in case of a cyber attack.
Ability to install, remove, update, and modify firewalls, anti-spam, anti-virus, and other malware protection systems as required.
Our Services

Smart IT Solutions for Smart Pharmas

Our IT professionals work with our clients to transform their business through scalable, cost-efficient, and innovative managed IT solutions. We can help you quickly connect with our remote technology partners to build a suitable IT solution for you.
IT as a Service

IT Solutions Exclusively Designed for Pharma

We have a dedicated team of skilled engineers to handle IT consulting services for pharmaceutical companies. That means you get the undivided attention of certified engineers with core competence in developing and executing pharma IT solutions globally. As a result, whether customized or standardized, each one of our offerings is specially designed for a pharma company, resulting in guaranteed satisfaction for our clients.

We focus on developing systems that'll help you –
Reduce drug discovery and marketing costs.
Simplify global mergers and acquisitions.
Align with varied regulatory compliance.
Enhance data security according to the required security standards.
Hire Us

Let's Talk about
Your IT Needs

Contact InterHyve Systems for a fully customized offer.